---
SUBMARINE CENTER
Dive School


PADI & NAUI COURSES
English, Spanish, Italian, Portuguese languages
FROM OPEN WATER TO DIVEMASTER

DISCOVER SCUBA DIVING
RESORT DIVE FOR INEXPERIENCED PEOPLE
GUIDED DIVING - GROUPS OF 4 PEOPLE
QUALIFIED AND EXPERIENCED PERSONAL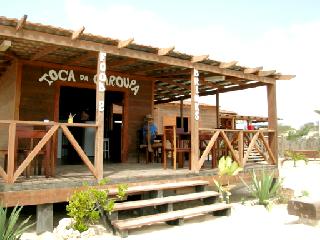 Dive Center:
Equiped for small groups, dive guided.
Night dive, wreck dive.
Maximum 5 divers per group.
Padi & Naui courses at all levels from scuba diver to dive master.
Introduction to diving: discover scuba and discover scuba diving.
Snorkeling trips.

Individual care with each client
The boat is ideal for the sea conditions found in this part of the Atlantic.
Kite Center:
Full course with boat following (10 hours) - or hour lesson Rent equipment
Boat Rescue
Staff:
Atila M.Amaro: Padi & Naui instructor, technical diver TDI ( Nitrox-Extender Range- Trimix), Cave Diver NSS-CDS
Rosaria I.Fabiano: Padi dive master, nitrox diver TDI, cave diver NSS-CDS

Languages spoken:
English, Italiano, Français ,Espanol, Portugues

Centro Sub:
Attrezzato per piccoli gruppi. Immersioni guidate.
Immersioni notturne e su relitti
Massimo 5 subacquei ad immersione.
Corsi nelle didattiche Padi & Naui, dal livello scuba diver al dive master.
Introduzione alla subacquea: discover scuba e discover scuba diving.
Gite Snorkeling.
Accoglimento personalizzato
L'imbarcazione è appropriata alle condizioni di mare locali
Centro kite:
Corso completo con assistenza barca seguendo lo studente (10 ore)
Lezione singola - ora aula.
Affitto attrezzatura
Recupero barca
Staff:
Atila M.Amaro: Padi & Naui instructor, technical diver TDI ( Nitrox-Extender Range- Trimix), Cave Diver NSS-CDS
Rosaria I.Fabiano: Padi dive master, nitrox diver TDI, cave diver NSS-CDS

Lingue parlate:
Italiano ,English, Français ,Espanol, Portugues