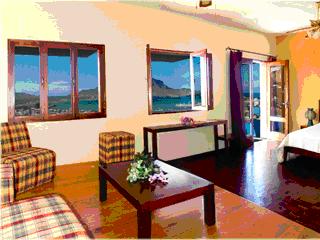 From our small hotel you will get one of the most beautiful views in Mindelo. You will dominate the whole city, from the Porto Grande bay, known to be one of the most beautiful in the world, to the Monte Cara.
We are conveniently located: the "Praça Nova", centre of the town, is a mere five minutes walk from the residence, the boats to Santo Antão or São Nicolau are ten minutes away and the "Laginha" fifteen.
We are offering 3 types of accommodations:
studio flats/efficiencies,
rooms,
suites,
in a convivial atmosphere and at very moderate prices.
So come and experience the "Morabeza"!

De notre petite résidence hôtelière, vous aurez une des plus belles vues que l'on puisse espérer. Vous dominerez toute la ville de Mindelo, de la baie de Porto Grande, réputée être l'une des plus belles du monde, au Monte Cara, avec l'île de Santo Antão juste en face.
Nous sommes proche de toutes commodités : la "Praça Nova", le centre de la ville, est à 5 minutes à pied seulement, les bateaux pour Santo Antão ou São Nicolau à 10 minutes et la plage de "Lagninha" à 15.
Nous proposons 3 types de logements:
appartements studios,
chambres,
suites,
dans une atmosphère conviviale et à des prix très modérés.
Alors venez découvrir la "Morabeza"!